Room 77, the hotel search-by-room site that debuted in February, has added booking and comparison-shopping capabilities along with a free concierge service to its offerings.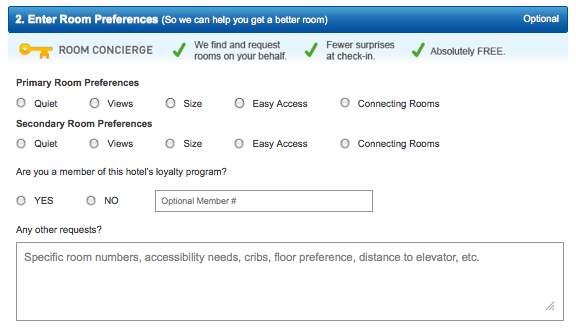 Starting today, travelers can use Room 77 to simultaneously shop multiple major online travel agencies (OTAs), compare prices across a variety of room types and book at more than 120,000 hotels worldwide.
The company also enhanced its search pages, adding a useful "fees" link for each hotel that shows users the prices of extras, such as valet parking, self parking, Internet connectivity, cribs and pet fees.
The ability to compare various room types at multiple hotels helps travelers more easily find the best values for their stays. For example, they might see that for $25 a night more, they can get a room with better views in the next higher category. Or, they can determine that a suite at one luxury brand is less than the entry-level room at another nearby luxury property, or compare competing properties for the best deal. Results can be viewed in a list or on a map.
In addition, for three- to five-star properties booked through Room 77, travelers get access to a complimentary Room Concierge, which uses Room 77's proprietary RoomMatch technology to identify the best rooms for each traveler and works directly with hotels to try to secure them.
"No matter where you book a hotel today, your actual room is still a gamble. Room 77 stacks the odds in the traveler's favor by combining the power of our room IQ with advanced search technology and unprecedented service to get you the right room at the right hotel for the right price," said Brad Gerstner, founder of Room 77.
Once a hotel has been selected, the new booking pages list the average nightly rates plus taxes and fees for each room type at the property, along with prices for various room types found at Room 77's partner sites, some of which include Orbitz, Expedia, Travelocity, Priceline, Hotels.com, CheapTickets.com and Booking.com.
Travelers who choose to book through Room 77 get the added benefit of the Room Concierge, on qualifying properties. Here's how it works (or you can watch the attached video):
On the booking form, before finalizing the reservation, travelers can select both primary and secondary room preference (quiet, views, size, easy access or connecting rooms), then supplement those attributes with personalized requests, such as specific room numbers, floor preference, cribs, distance to elevator or whatever else they think of.
Room 77 uses its RoomMatch technology and other information to identify the best rooms to match those preferences, appends the requests to the bookings sent to the hotels, then follows up to ensure they were received, and works with the hotels secure the best matches and confirm the room assignments.
Within 48 hours prior to arrival, a guest will receive a message with the status of their room request and, when possible, a confirmation of specific room number. Room 77 also sends additional hotel information, including suggested rooms and additional hotel-specific tips to increase their odds of getting a preferred room at check-in if one isn't confirmed before arrival.
"It's really a blend of science and service that defines the process," said Kevin Fliess, general manager and vice president of product at Room 77. "We've analyzed over 750,000 individual hotel rooms and know where the good and bad rooms are in the hotel. We then use that technology and data to generate a very specific room request—then do a little follow up (the service)."
According to statistics from a Room 77 survey:
75 percent of travelers who book online report that they have been disappointed in their hotel room, often because of view, noise and location.
93 percent of travelers who book hotels using online travel sites believe they get an average or worse room in a hotel due to the fact they use these sites.
In beta testing, more than 90 percent of travelers who have used Room 77′s Room Concierge service report that they were assigned a room that met or exceeded their expectations.
One thing to note: The search results pages show the lowest day rate available for the length of stay for each hotel. A vast majority are dollar rates, however for a few international hotels, the number may represent a figure in a foreign currency, however when you select the property and get to the booking page, the site automatically does the conversion and all sales are currently made in U.S. dollars.
Photo: Room 77
Related posts:
Room 77 Wins Big at Launch Conference
Traveltechnology Weekly: Room 77, Hotel Twitter Account Valuation…