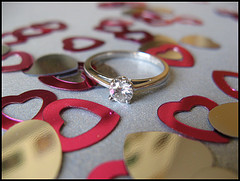 Last year, American Express coined the term "engagementcations" to describe trips planned specifically to get engaged. According to the credit card company's travel experts, location recommendations for marriage proposals was the most sought after advice for people booking romantic vacations.
This year, many hotels are hoping to capitalize on the travel trend by offering special engagementcation packages.  Naturally, Valentine's Day is the perfect opportunity for travel companies to establish themselves in the proposal business.
The Woodlands Inn, a Salamander Hospitality property in South Carolina, will launch its "Betrothal Butler" service on Valentine's weekend. This service, which is free to guests of the hotel or restaurant, includes proposal planning advice, special delivery of the ring and a photo taken of the big moment. If this sounds like what most restaurants would provide a guest upon request, it's because it is, but the clever marketing may help establish Woodlands Inn as an engagementcation destination.
The Millennium Biltmore Hotel in Los Angeles takes things up a notch with their "Get CARRIE-D Away" Proposal Package. For $5,000 eager suitors can recreate the proposal scene from Sex and the City, complete with a walk-in closet and a pair of designer heels. The closet is available only with an overnight stay in the Presidential Suite, but the shoes are hers to keep.
I'm normally leery of corporate attempts to monetize what should be heartfelt, personal moments. I hate the idea of couples feeling pressured to spend thousands of dollars (after the ring is bought) just to propose marriage. And "engagementcations" is uncomfortable to say and spell.
But I have to admit, it'd be hard to say no to getting "CARRIE-D Away."