On the Transportation Security Administration's 10th anniversary, TSA and American travelers still have a lot of work to do on their relationship. So says a recent survey commissioned by the U.S. Travel Association, the results of which association CEO Roger Dow shared earlier this month at a press conference at Washington Reagan National Airport.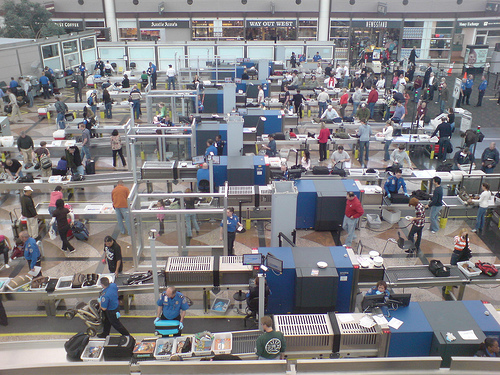 About two-thirds of travelers are satisfied with the job the TSA is doing on security, but 80 percent say that the most unpleasant parts of flying have to do with security checkpoints. Their biggest gripes:
72.4 percent chose "people who bring too many carry-on bags through the security checkpoint"
68 percent chose "the wait time to clear the TSA checkpoint"
62.3 percent chose "having to remove shoes, belts and jackets at the TSA checkpoint"
42.5 percent chose "TSA employees who are not friendly"
U.S. Travel suggested that improving the checkpoint process could encourage Americans to fly more often, and indicated that both TSA and airlines could play a role in easing some of the headache that the security process induces. Airlines could make it easier to enroll in the new trusted-traveler program PreCheck and help reduce the number of carry-on bags going through passenger checkpoints (we're looking at you, ever-increasing checked-bag fees).
Travelers' impressions of TSA aren't all bad, the survey showed. A majority believe the agency is on the "right track" with PreCheck, the decision to eliminate pat downs for children, software upgrades that replace personal body images with a generic body image and a decision to phase out the removal of shoes.
Photo: Inha Leeks Hale
Related posts:
TSA—Trusting Technology Over Travelers
USTA Calls for Whole Body Screening, Canine Security at Airports
TSA — All Security, No Travel