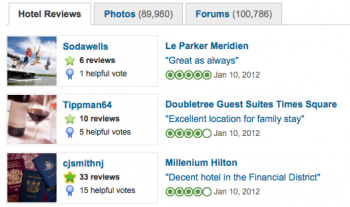 Online review sites are gaining ground as a research tool in the destination selection process, according to a recent report published by PhoCusWright that looked at the habits of leisure travelers in the United States, France, Germany and the United Kingdom. Online travel agencies (OTAs) are still a popular source for reviews, the study found, and different patterns are developing in each market.
A higher percentage of travelers in all four markets are turning to review sites such as TripAdvisor—21 percent of French and German travelers consulted one in 2011, an increase of 8 and 7 percentage points, respectively.
Although the use of traveler review sites is increasing across the board, U.S. and German travelers still put more stock in the reviews they find on OTA sites, according to PhoCusWright. The percentage of U.S. travelers who called traveler review sites slightly or very influential decreased from 65 percent in 2011 to 59 percent in 2010. Meanwhile, the portion who said the same about reviews on OTA sites held steady at 73 percent. Travelers in the United Kingdom and France are much more likely to be influenced by traveler review websites.
Competition for travelers' eyeballs is not a zero-sum game, the study confirmed. Travelers in all four markets visited an average of three to five sites before booking, according to the report, "Destination Unknown: How U.S. and European Travelers Decide Where to Go."
Photo: TripAdvisor.com
Related posts:
Travel News Roundup: Google Irks OTAs
Travel Channel Invests $7.5 million in Hotel Review Site
More Positive Yet Tepid Outlooks for Travel, per PhoCusWright