The first IMEX America, held Oct. 11 to 13 at the Sands Expo in Las Vegas, has been deemed a success, with more than 2,000 hosted buyers, 1,700 non-hosted attendees and 2,000 exhibitors from 140 destinations attending the trade show for the global meetings, events and incentive travel industry.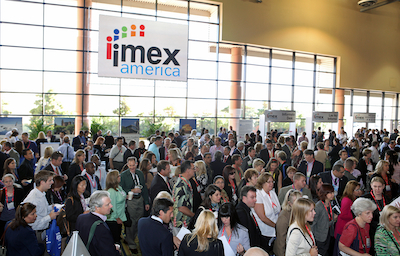 What's more, the popularity of the event and leads generated during the show demonstrated that the meetings and incentive travel industry is continuing its comeback after the dismal years following the 2008 financial crisis and recession. According to IMEX, 53 percent of hosted buyers attending had budgets in excess of $1 million, and more than 30,000 total appointments were made before and during the show.
"We have successfully delivered a new, collaborative business model," said Ray Bloom, IMEX Group chairman. "IMEX America has succeeded in producing lasting achievements in three main areas this week: volume and quality of business, professional education, and networking and new global and U.S. business contacts."
Michelle Saran, executive director of the Canadian Tourism Commission, said, "We've had many one-on-one appointments—I haven't seen a booth this busy in North America for years. Our team pre-planned appointments, but we also had a lot of people walking in to the stand for ad-hoc meetings."
Another recipient of that strong "walk-up" business was the Scottish Exhibition and Conference Centre (SECC), whose team received a booking for a 12,000 delegate event from a buyer who arrived without an appointment but was looking to place the event outside of the United States for the first time.
"I don't think I'm overstating it in saying IMEX is now the preeminent group travel trade show in North America," said Patrick T. Smith, senior director of group sales, North America, for Leading Hotels of the World (LHW), which just created its group sales division one year ago. "I thought the show was excellent, but as it was the first year, we learned a lot and will be improving the experience for both our clients and our hoteliers. The appointment-driven format and the high quality of the clients in attendance, along with the excellent networking opportunities, dovetailed well with the business goals of our portfolio of hotels. In general, I can attest to the fact that group travel and incentives business at LHW, especially overseas, is definitely continuing to improve."
The education sessions at the show were filled to capacity as well. "Having packed-out sessions at our own education conference is one thing. Having packed-out sessions at a trade show is unheard of," said Bruce MacMillan, CEO and president of Meeting Professionals International (MPI), an IMEX America partner. "That's the big difference. MPI and IMEX America have changed the value proposition."
In terms of buzz during the event, BizBash Media, which covers the events side of the industry, noted that the top five topics being discussed at the show were:
Hybrid and virtual meetings
Sustainability in meetings and events
Budgets and how to do more with less
ROI and justifying meetings' value
The future of meetings
According to research released by Pricewaterhouse Coopers and commissioned by the Convention Industry Council, the U.S. meetings industry directly supports 1.7 million jobs, generates $106 billion in GDP, $60 billion in labor, $25.6 billion in state and federal taxes, and $263 billion in direct spend.
The original IMEX continues to be held annually in Frankfurt, Germany. The next IMEX America is scheduled for Oct. 9 to 11, 2012, and IMEX Group plans to keep the show at the Sands Expo through 2014. IMEX also has an exclusive partnership with the U.S. Travel Association, the national, non-profit organization representing all components of the $704 billion U.S. travel industry.
Photo: IMEX America
Related posts:
U.S. Travel Association Partners With IMEX America
USTA Develops Toolkit to Fight AIG Effect
Meetings Industry Groups Mean Business in Bid to Correct Perceptions