The newly released Hotels.com Hotel Price Index (HPI), covering the first six months of 2011, shows a 3 percent global price increase and continued gradual recovery of the industry despite natural disasters and political upheavals in the first half of the year, and ongoing economic and employment stagnation in the United States.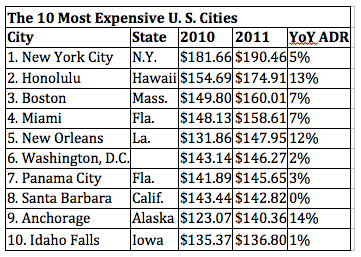 Rates, however, are still below their pre-recession peak in mid-2007, so there remain some good deals and value for travelers.
"Despite the gradual upward trend in hotel prices compared to recent bargain basement rates, there are still plenty of great deals for consumers," said Victor Owens, vice president of marketing North America for hotels.com, in a statement. "Sales are popping up constantly, especially last-minute sales on desirable locations. There are plenty of cities that still have reduced average hotel rates. Even popular tourist destinations offer deals during the off-peak season."
The HPI surveys hotel prices in major city destinations across the world and is based on bookings made on hotels.com, with prices shown as those actually paid by customers (rather than advertised rates) for the period being reviewed. This report compares prices paid in 2010 with prices paid in 2011.
Higher Costs for U.S. Travelers
The weak U.S. dollar means overseas travel is even more costly for Americans, particularly for European destinations, where U.S. travelers paid 11 percent more for hotel rooms in the first half of 2011 than they did in 2010. They also paid a 5 percent increase for rooms in North America, a 4 percent increase in the Caribbean, but just a 1 percent rise in Asia.
In the 10 most expensive international cities, rates rose 22 percent on average, with U.S. travelers paying $350 per night and up for rooms in destinations as diverse as Vieques, Puerto Rico, and Monte Carlo, Monaco. French Polynesia's Bora Bora topped the list, with daily rates averaging $800.
New York once again is the most expensive city for travelers in the United States, with an average rate of $190.46, up 5 percent from $181.66 in 2010, followed by Honolulu, up 13 percent, Boston and Miami, up 7 percent each, and New Orleans, up 12 percent from 2010.
International Destination Trends
When it comes to where Americans are traveling, little has changed. Europe remains the international spot most frequented by U.S. travelers, with London, Paris and Rome the three most popular destinations. Our neighbors to the north, Toronto and Vancouver, are fourth and fifth, respectively. European cities grabbed 10 more of the top spots, with Madrid, Amsterdam, Dublin, Florence and Venice each moving up in popularity.
The fastest growing cities for U.S. travelers are in Asia, with Beijing, Bangkok and Seoul rising from 12 to 16 spots each, and the first two, along with Hong Kong and Shanghai, ranking in the top 20.
For full HPI results, visit www.hotel-price-index.com.
Image: Hotels.com HPI Survey
Related posts:
Business Travel Costs Near Pre-Recession Levels
Cost of Travel Expected to Rise in 2011