Who cares about turndown service? I just want free Wi-Fi.
Those were two unsurprising findings of a recent TripAdvisor survey that asked 1,200 travelers and 600 hotel owners and managers what they considered the most and least important amenities.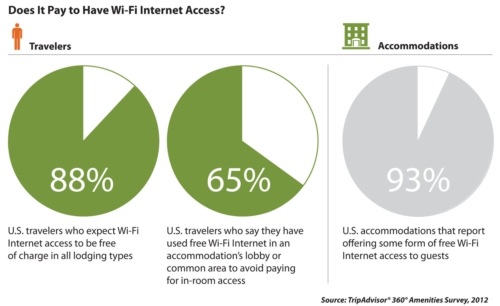 After Wi-Fi, the top-rated perks were free breakfast, loyalty points, a hotel restaurant, and a complimentary shuttle to area attractions and the airport. After turndown service, the amenities getting the lowest marks were pet-friendly policies, spa, organized excursions and room service.
Perhaps as important as knowing what guests want is knowing what they will do in order to get it. Just over half of travelers surveyed said they have canceled a reservation to take advantage of better amenities at a different property. And 65 percent percent say they have gone to the lobby or other common areas to avoid paying for wireless Internet, while 41 percent have never paid for Wi-Fi access.
TripAdvisor is calling the study a 360-degree survey because it polled both travelers and hoteliers. And the results show that hotels understand some of the things that their guests want, but are missing the mark on others. Hoteliers underestimated the importance of guest loyalty points and shuttle service, while overestimating the importance of pet policies and room service.
Following are the lists of most and least desired amenities.


Photos: TripAdvisor
Related posts:
Bizarre Hotel Amenities
Trends From the HotelChatter Wi-Fi Report
Airlines Eye Free Wi-Fi for Travelers