Stephen J. Cloobeck, CEO of Diamond Resorts International, aims to become one of the world's great hoteliers, saying at a media event in New York City this week that he wants to join the ranks alongside Hilton, Marriott and other hospitality innovators.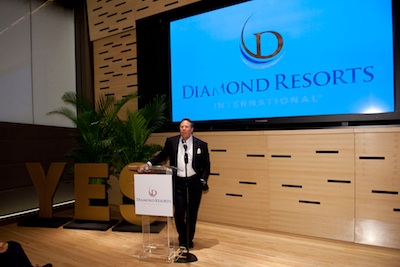 He gets a chance to prove his worth this Sunday, or at least expand his audience, when he and his company are featured on the season-three premier of the CBS television show "Undercover Boss." The reality series previously has featured two other hospitality bosses, from Choice Hotels and Great Wolf Lodge.
Founded in 2006, the Las Vegas-based Diamond Resorts is a growing time-share company, with more than 200 resorts in 28 countries. The management team focuses on taking over struggling vacation-ownership properties, sprucing them up and turning them around. Cloobeck, who also is chairman of Brand USA (formerly the Corporation for Travel Promotion), a public-private partnership that promotes the United States as a destination to international travelers, says Diamond Resorts is unlike most traditional vacation-ownership companies in that it operates like an FIT business, uses a points system, and guests can stay any length of time, from one night to multiple months.
This "Undercover Boss" episode shows Cloobeck as new hire "Jack Fisher," whose ruse is that he is being filmed for another reality show about hating his job and starting over in a new career. His supposed previous job was as a morgue attendant for 20 years. In a disguise that features an obvious wig and make up that took an hour each day to apply, "Fisher" gets trained at a call center in Miami and works in maintenance and at the front desk at three different U.S. properties, in Sedona and Scottsdale, Arizona, and Williamsburg, Virginia.
In keeping with the formula of the show, the segments address some work issues specific to the company, but understood beyond the business' industry—in this case, problems with call center workers, maintaining brand consistency among properties and how to handle overbookings. There are a few "tense" moments—including a fire and Cloobeck having to stand next to a poster of his undisguised self, a couple heartbreaking ones, and, at the end, pretty amazing gifts to the participating employees.
One of the complaints about "Undercover Boss" is that it rarely shows realistic work situations (which, frankly, can be said about most workplace-based reality TV programs). Another is that it's primarily a public relations vehicle for the companies that participate. Indeed, there were no mentions in the episode of some problems Diamond Resorts apparently is having with some properties, as referenced in user comments on the show's website.
Still, the main purpose behind participating in such a show should be to learn how to improve a company's operations. So what were the major takeaways from the experience for Cloobeck and his management team?
"The biggest lesson learned was how important training is, especially when you have such a large staff with a broad range of education and experience," says Cloobeck, adding that since filming ended a few months ago, he created a corporate-wide training program to address those needs.
Management also has addressed staffing schedules, technology upgrades, and equipment and supply needs.
Cloobeck, a former bodybuilder who made his fortune as a shopping mall developer, also learned that in addition to focusing on guest needs, you also need to take care of talented and dedicated employees, especially as they may be experiencing family and financial difficulties in their personal lives.
To honor that lesson, Cloobeck launched a charitable emergency fund about two weeks ago, from which needy employees can apply for assistance. "I give away anywhere from $250,000 to $500,000 each year to charities and organizations around the world and realized that there were people I could help right in front of me, in my company."
Photo: Diamond Resorts
Related posts:
U.S. Launches Corporation for Travel Promotion
Corporation for Travel Promotion Gears Up for Pow Wow Launch