Family travel is big part of the content provided by UpTake, so we're always excited to see TripAdvisor's Travelers' Choice Family Award winners each year.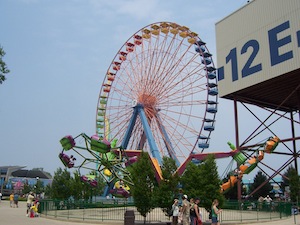 The company announced its 2011 winners yesterday, and taking top honors for U.S. Amusement Parks & Boardwalks is Anaheim, Calif. Orlando (No. 4) may have the larger Disney World, but Anaheim has the original Disneyland park, along with Knott's Berry Farm, the Fightdeck Air Combat Center and sporting arenas.
Winning destinations were identified based on the greatest number of recommendations from reviewers who traveled with family. According to a recent TripAdvisor survey, 83 percent of U.S. respondents plan to travel with family in 2011; 90 percent of that segment is planning family trips domestically.
The complete list of Top 10 Amusement Parks & Boardwalks includes:
1. Anaheim, Calif.
2. Wisconsin Dells, Wis.
3. Wildwood Crest, N.J.
4. Orlando, Fla.
5. Sandusky, Ohio
6. Myrtle Beach, S.C.
7. Hershey, Pa.
8. Ocean City, Md.
9. Carlsbad, Calif.
10. Panama City Beach, Fla.
Less obvious choices but just as worthwhile are the Top 10 Places to Discover, with Virginia claiming the top two spots:
1. Colonial Williamsburg, Va.
2. Virginia Beach, Va.
3. Lake George Region, N.Y.
4. Pigeon Forge, Tenn.
5. Branson, Mo.
6. Gatlinburg, Tenn.
7. Corpus Christi, Texas
8. Port Aransas, Texas
9. Daytona Beach, Fla.
10. Destin, Fla.
The top family vacations for our Canadian neighbors to the north includes some of the world's most scenic destinations:
1. Niagara Falls, Ontario
2. Chistler, British Columbia
3. Banff, Alberta
4. Edmonton, Alberta
5. Ottawa, Ontario
6. Quebec City, Quebec
7. Vancouver, British Columbia
8. Montreal, Quebec
9. Toronto, Ontario
10. Victoria, British Columbia
No surprise here, with an Italian city coming in first (Florence), but it's nice to see two relatively emerging family travel destinations—Budapest and Istanbul—make the list of Top 10 Family Friendly Cities in Europe:
1. Florence, Italy
2. Edinburgh, United Kingdom
3. London, United Kingdom
4. Berlin, Germany
5. Barcelona, Spain
6. Rome, Italy
7. Vienna, Austria
8. Paris, France
9. Budapest, Hungary
10. Istanbul, Turkey
The warm weather and beaches make the Caribbean and Mexico prime spots for family travel fun any time of the year. This year Paradise Island, with massive Atlantis resort and its myriad kids activities, and Ixtapa, Mexico, which boasts an excellent Club Med family-friendly resort, the prime attractions.
1. Paradise Island, New Providence Island, Bahamas
2. Ixtapa, Mexico
3. Playa Paraiso, Mexico
4. Seven Mile Beach, Grand Cayman
5. Nuevo Vallarta, Mexico
6. Puerto Aventuras, Mexico
7. Akumal, Mexico
8. Cancun, Mexico
9. Bayahibe, Dominical Republic
10. Palm/Eagle Beach, Aruba
What are your favorite family-friendly destinations?
Related posts:
UpTake Famly Vacations
5 Spring Break Destinations for Families
Aruba's Top 5 Best Beaches
Photo credit: TripAdvisor media release