What at first might seem like a cheeky Valentine's Day prank—a score for how likely it is a user will score on a date—is actually a new online tool that could help people make more appealing travel and entertainment plans.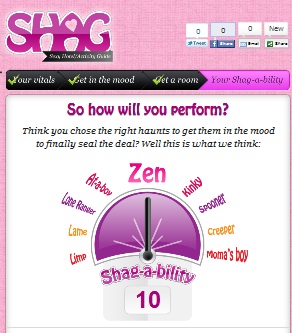 Shagscore.com determines a user's "shagability" by rating their restaurant, bar, nightclub and, yes, hotel selections to see whether their plans for their Valentine's Day holiday, or any romantic date night, will measure up.
The site uses an algorithm to determine if plans will help a mate "get in the mood," as well as if your shag places of choice will deliver a higher likelihood of a score. Selections are "carefully measured to give useful results including a range from Lone Ranger to Zen to Spooner."
Shagscore.com is designed for both men and women.
The idea clearly came to the lead engineers of Shagscore after viewing the Austin Powers movie. Not surprisingly, none of the developers will share their personal scores.
Bloggers at TripHow and CollidingContinents have already discovered the new site, and for those who might be nervous about finding out their own Shagscore, there's a video to help ease them into submission.
Yeah, baby!
Full disclosure: content used to provide Shagscores kindly provided by UpTake.
Related Posts