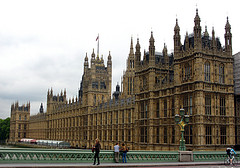 File this under No Big Surprise: London hotels are raising their rates significantly in anticipation of the April wedding between Prince William and Kate Middleton.
A room at the Waldorf Hilton, located about 15 minutes from where the wedding ceremony will take place at Westminster Abbey, normally prices rooms for about 269 GBP per night (roughly US$431).  According to the hotel's website, visitors should expect to pay 349 GBP (US$559) a night on the weekend of the wedding. There are about 103,000 hotel rooms in central London, many of which are already booked for the days surrounding the April 29, 2011 nuptials.
But it's not just traditional hoteliers who are expected to profit from the royal event; overnight stays in private homes are being auctioned off to the highest bidder. Everything from extra rooms to entire flats are listed on websites like Londonrentmyhouse.com, a practice that is common during major tourism events in London. Apartments are already being offered for the London 2012 Summer Olympics, and the yearly Wimbledon tennis tournament frequently sees tourists renting from well-located residents.
According to Visit London, the organization in charge of tourism for the U.K. city, officials expect at least 600,000 visitors to come for the spring wedding. Visit London also estimates that the event will generate anywhere from 30 to 50 million GBP in additional revenue for the city's economy.