VroomVroomVroom is already one of the most spectacular online successes of the 21st century in Australia, and now that the cool rental car price comparison site has launched in the U.S. market, the car rental specialists from down under are on their way to the top here, too.
The company's vision is a simple one: to be known around the world as the easiest way to rent a car! One reason VroomVroomVroom is popular (it's #1 in Australia) is that the site offers a truly customer driven experience, enabling price-savvy users to book reservations with all the major car rental companies at over 2,500 U.S. locations, in addition to destinations worldwide.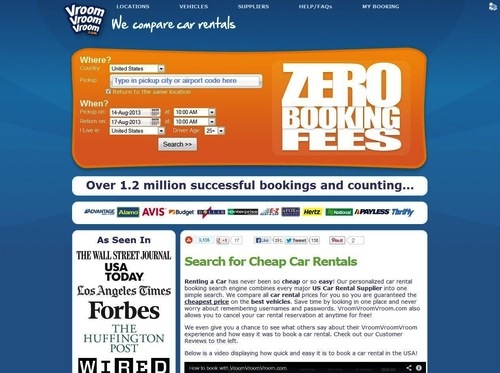 Achieving the 4th "V" – VroomVroomVroom's Vision
For the past 3 years, the VroomVroomVroom team has been developing the U.S. platform, from implementing cutting-edge technology to building relationships that help the team to offer real-time pricing and direct connections to all of the key car rental providers, all of which help give Americans a new choice for renting a vehicle with ease.
From downtown, urban areas to small towns to the major airports, travelers in the U.S. like VroomVroomVroom because it's easy. It boasts the fastest interface in the industry, taking 28.5 seconds to complete a reservation. No other car rental site is so quick!
Moving Forward while Backing Up every rental with top-notch support
VroomVroomVroom helps its customers compare the rental car prices from 15 suppliers, and completes over a thousand bookings every day. An excellent team of car rental experts offers site users their choice of help over the phone, by email, or in a live chat room. Only a fraction of the competition offers this level of customer service!
The company motto at VroomVroomVroom is, "Our vibe is fun and positive, we innovate, and WOW, we make it easy! We are a team that values integrity, trust and respect, and we invest in the future to remain sustainable."
A Completely Free Service – No Fees, No Ads, you don't even need a credit card
VroomVroomVroom is getting closer to reaching its goal of providing easy access to cheap car rental prices all across the Earth, but still has lots of work to do. The service's advantages include:
No ads on the site!
No booking fees!
No credit card required!
No cancellation fees!
No hidden costs whatsoever, and its hassle-free, no bull approach to rental car comparison is paying off! VroomVroomVroom enjoys success in Australia, New Zealand, the United Kingdom, Canada, and has now established an American headquarters in Las Vegas.
Their mobile friendly site makes it easy to book on the run… and you can even have your booking confirmation sent straight to your phone as an instant SMS message.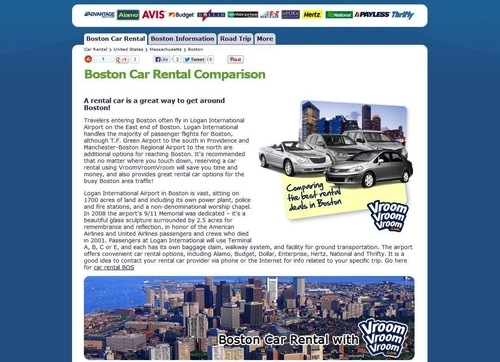 Read one of VroomVroomVroom's fun feature articles, including:
http://www.vroomvroomvroom.com/fun/best-views-from-your-car/
http://www.vroomvroomvroom.com/fun/best-road-trip-songs/
http://www.vroomvroomvroom.com/10-most-beautiful-drives.asp